Your Docker Agenda for January

This post was originally published on this site
There are tons of great Docker events all around the world to help you kick off the new year. From webinars to workshops, meetups to conference talks, check out our list of events that are coming up in January.
---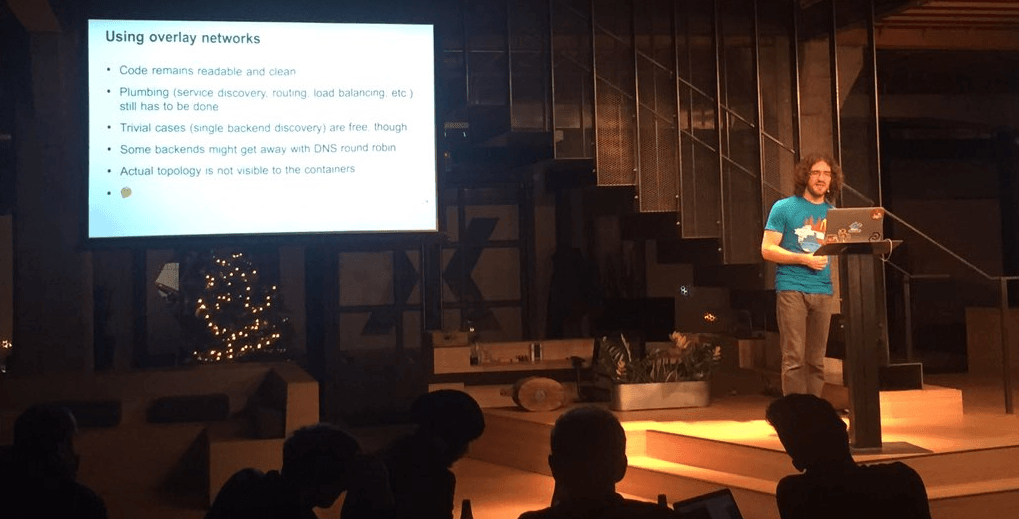 Official Docker Training Courses
View the full schedule of instructor led training courses here!
Docker Administration and Operations
This two day course is designed to help new and experienced systems administrators learn to use Docker to control the Docker daemon, security, Docker Machine, Swarm, and Compose.
Jan 14-15: "Docker Administration and Operations" with AKRA – Hamburg, Germany
Jan 26-27: "Docker Administration and Operations" with Vizuri – Atlanta, GA
Jan 27-28: "Docker Administration and Operations" with Antelops Consulting – Madrid, Spain
---
Online
Jan 12th: The Value of Docker Subscription
In this webinar you will learn why companies are leveraging Docker enterprise subscription to build, ship and run their distributed applications.
---
North & South America
Jan 7th: Docker Meetup with Cloud Talk Sponsored by @AgitareTech – Seattle, WA
Practical Guide to Using Docker Containers for Dev/Ops Containers are enabling new ways to run your applications and services by making them portable, extensible, and easy to burst across mix of environments. This can include deployments across private, hybrid and public clouds. In this talk, we will explore tools and practical uses for Containers with various workflows, how they are being applied to application development and DevOps practices, and consideration for selection between VMs and container architectures.
RSVP
Jan 7th: Practical Guide to Using Docker Containers for Dev/Ops – Seattle, WA
In this talk, we will explore tools and practical uses for Containers with various workflows, how they are being applied to application development and DevOps practices, and consideration for selection between VMs and container architectures.
Jan 7th: Docker Meetup at Rackspace – Austin, TX
Welcome to the New Year fellow Dockers! To kick off the year, we'll do a State of the Union on Docker and Containers. This will be a panel style presentation with Docker and container experts in Austin! Bring your burning Docker and Container questions to the panel! We'll cover everything from what's happened in the Docker space over the last year, and where we see containers going in 2016!
RSVP
Jan 7th: Docker Meetup at Red Ventures Corporate HQ – Charlotte, NC
We'll be having two guest speakers discussing how to deal with secrets in containers and how Segment.io runs containers using the AWS ECS platform. We'll have some time for general discussion and questions as well.
RSVP
Jan 8th: Docker Basics and How to Begin – Puebla, Mexico
Lets get together to talk about why we use Docker. We will have demos on the basic steps on when you first use Docker, some presentations and time for networking after the event.
Jan 9th: Docker Intro – Cambridge, MA
The importance of platform engineering is increasing. It has escaped the realm of devops reaching the entire team building increasingly mobile platforms tied to cloud services. We'll have a hands on day. We are fortunate to have O'Reilly CTO Andrew Odewahn and Google Engineer Ray Tsang lead this hands on day to learn about these two important technologies.
Jan 12th: Using Docker with Azure and PowerShell – Nashville, TN
In this session Tim Warner teaches how to deploy Windows Server Docker containers by using Windows PowerShell and the Microsoft Azure public cloud. He'll start by explaining what Docker is and what the technology means for Windows systems administrators.
Jan 13th: Docker Meetup at 3DSIM Headquarters – Salt Lake City, UT
Amazon released ECS last year. Now that it is out of "beta" Ryan Walls, Engineering Manager at 3DSIM, will be presenting an overview of what it is and how to use it. Additionally, how to use ECS with Ansible will be covered. Time permitting we will try to get some hands on time, so bring your laptops.
RSVP
Jan 14th: Docker Meetup at OnyxPoint – Baltimore, MD
We'll discuss the latest information out of Docker CON EU (since we missed the December Meetup) and dive into a specific set of tools (Rancher, Sysdig and Logentries) which one of our members has utilized to work with Docker in production. IBM will provide pizza and beer. Special thanks to OnyxPoint for allowing us to invade their space for this meetup!
RSVP
Jan 19th: Docker Meetup at Capital Ale House – Richmond, VA
Docker networking and security management
RSVP
Jan 19th: Zero to Docker in Minutes – Harrisburg, PA
Docker and containers are the hot technology. Seems everywhere you turn, there's a blog post, some software, or a "technologist" talking about Docker. What is it? What can it do? How difficult is it to use? Is it of any value to, say, a Microsoft developer? So many questions.
Jan 19th: Docker Meetup at The Innevation Center – Las Vegas, NV
Will discuss and present Docker Log Files reporting for syslog and or other Docker Use Cases
RSVP
Jan 21st: Docker Meetup at GoPro – San Francisco, CA
Join us at GoPro to hear a talk from Patrick Chanezon on DockerCon EU. He will be recapping all of the announcements that were made in Barcelona during DockerCon and has a great presentation prepared for us!
RSVP
Jan 21st: Docker at SCALE 14x – Los Angeles, CA
Join Docker at SCALE 14x this year in Los Angeles. Check out the "Advanced Docker concepts and container orchestration" workshop held by Jerome Petazzoni and John Willis' beginner's talk "Devopsing the Operating System."
The Docker team will be at booth #712.
Jan 28th: Docker Meetup at Deis – Boulder, CO
This talk will showcase how to use the Jenkins Docker plugins and provide you with configurations you can further explore in your own environment.
RSVP
---
Europe
Jan 12th: Docker Meetup at Google Offices Big Auditorium – Tel-Aviv, Israel
Join us for our January meetup!
RSVP
Jan 14th: Docker Meetup at The Cube Athens – Athens, Greece
Welcome the new year with a Meetup on Docker security. The Meetup will be split in two parts. Part one: How are containers built in the Kernel level. We'll talk about namespaces, cgroups and the other goodies that the Kernel provides, so that processes living in containers can be isolated and respect resource limits. Part Two: Utilizing the Docker API and namespaces to secure our infrastructure. In the next part, we'll talk about how we can leverage the Docker API and the Kernel resources we've talked about in order to enforce our limits and secure our infrastructure.
RSVP
Jan 14th: Docker Meetup at Futurice Tampere – Tampere, Finland
Join us for our first meetup event!
RSVP
Jan 18th: Docker Meetup at La Cantine – Nantes, France
Docker Meetup #3 : EC2 Container Services (ECS)
RSVP
Jan 19th: Continuous Delivery and Docker – Belfast, United Kingdom
Docker has recently gained of attention with users enjoying the advantages that lightweight containers provide i.e. consistency, isolation and repeatability of environments. Also, continuous delivery as a software process is becoming increasingly popular and is concerned with reducing risk through its ability to deliver new features to users at any time during the development life-cycle.
Jan 21st: Docker Meetup at Codebase – Edinburgh, United Kingdom
The Docker Edinburgh takes place at the CodeBase event space, in Lady Lawson Street, from around 18h30 to 20h00, with further discussion afterwards in the pub! Cloudsoft will be sponsoring the meetup, and pizza and beer will be provided. Please let us know what sort of speakers or topics you would like to see at future Meetups, or if there are alternative formats like lightning talks that would prefer. We're always looking for new speakers, so please get in touch if you have something you'd like to present about Docker or the wider DevOps community!
RSVP
Jan 23rd: Docker Workshop at Tenwa – Katowice, Poland
Workshop One: Dockerize a To-Do List app. You are invited to join our first workshop for beginners. We will together "dockerize" a NodeJS To-Do List app. After this session, you will know: most Docker commands, the Dockerfile syntax, Dockerfile best practices (weight, security), data containers, docker-compose. We will progress step by step, during a live coding session, and help you as you dockerize the sample application. You will create multiple containers, reuse a few existing ones, separating concerns and processes (app, data, db).
RSVP
Jan 28th: Docker Meetup at Zenika – Lille, France
Join Docker Lille Meetup #5 for a working session. Bring your questions and ideas!
RSVP
Jan 30th: Docker for Developers talk at FOSDEM – Brussels, Belgium
Michael Hrivnak will be speaking at FOSDEM '16. As a developer, there are many ways Docker can make you more productive, regardless of how your app gets deployed. In this session, you will learn practical strategies for using Docker, including how to: Run unit tests locally in multiple environments with almost no overhead. Make your integration tests easy for anyone to run by distributing them in a Docker image. Simulate advanced network topologies, especially for a service-oriented architecture. Make a Docker image in 5 minutes or less that produces builds from a consistent environment.
---
Asia
Jan 2nd: Docker Meetup at Thoughtworks – Hyderabad, India
Back2Back: Applications Containers Stack with Kubernetes AND etc.
RSVP
Jan 5th: Docker Meetup at BookMyShow – Mumbai, India
If you are a developers who is interested in learning more about the basics of how images, storage and volumes work in Docker, and how to handle data persistence for applications as they change, spin up and spin down and move across environments, this event is for you! Amit Shukla will be our speaker. Amit works on Container Orchestration and Storage at Docker. He came to Docker from Twitter, where he led the Data Infrastructure team and worked on data storage, caches, streaming compute systems, messaging and a log search system.
RSVP
Jan 10th: Docker Meetup at Unnati Computers – Aurangabad, India
Join us for our next meetup event!
RSVP
Jan 16th: Docker Meetup at Shippable India – Bangalore, India
We will discuss Docker Orchestration tools. Docker Swarm – Arunan Rabindran, Docker Inc., Kubernetes – Neependra Khare Mesos – Prashant Kumar, and Amazon ECS – Vinothini Raju, Bluemeric
RSVP
Jan 23rd: Docker Meetup at Gemini Systems – Coimbatore, India
Welcome note and Members Introduction (regular routine) Docker Compose – Running your application via compose. Hands on experience with docker-compose. Q & A / Networking. Members with their own laptops are most welcome, to try out Docker in the last part of the meetup.
RSVP
Jan 24th: Container Technology Conference – Beijing, China
Jan 27th: What is Docker and how to use it? – Bangkok, Thailand
---
Oceania
Jan 19th: Docker Meetup at Red Hat Brisbane – Brisbane, Australia
Overview and demo of Red Hats' OpenShift xPaaS including Ansible Install, OpenShift features, Continuous Integration, Continuous Delivery, Source2Image builds, web console and .NET Support.
RSVP
Jan 19th: Docker Meetup at Aconex – Melbourne, Australia
Join the Docker Melbourne Meetup group for their January event!
RSVP
Jan 19th: Docker Meetup at Atlassian – Sydney, Australia
Speaker one: production Docker in AWS at Atlassian, by Ben Barclay
Speaker two: an overview of the steps and challenges in deploying non local centric ephemeral containers on demand, by James Vodanovich
RSVP
---
Learn More about Docker
This syndicated content is provided by Docker and was originally posted at https://blog.docker.com/docker-january/
https://m-square.com.au/wp-content/uploads/2016/01/i2.wp.comblog.docker.commedia201512Screen-Shot-2015-12-29-at-3.36.54-PM-f730c08fcc876be3da8dd8294a2dca21ff69342f-1.png
519
1019
Karen Bajza
https://m-square.com.au/wp-content/uploads/2012/02/logo-m-square.png
Karen Bajza
2016-01-01 02:40:09
2016-01-28 23:36:54
Your Docker Agenda for January