This post was originally published on this site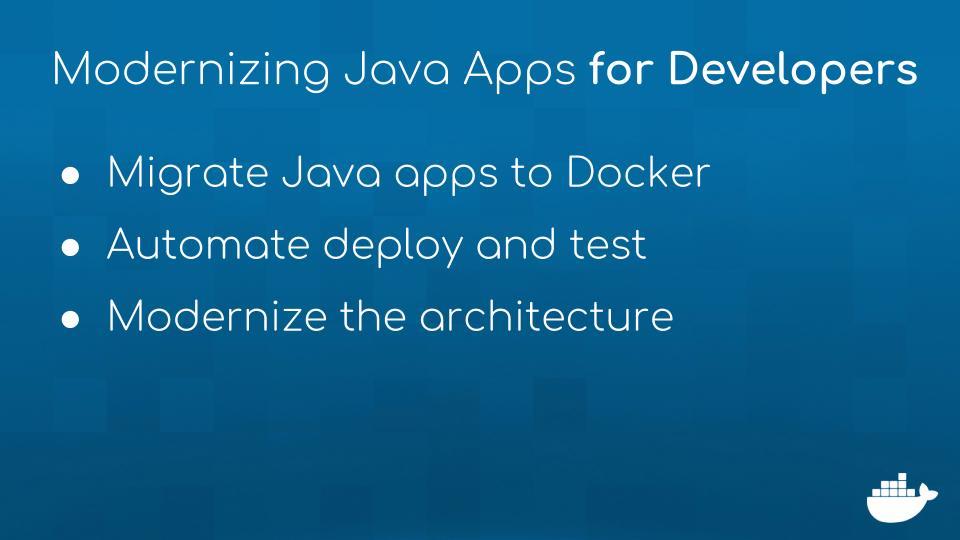 Moving a monolithic application to a modern cloud architecture can be difficult and often result in a greenfield development effort. However, it is possible to move towards a cloud architecture using Docker Enterprise Edition with no code changes and gain portability, security and efficiency in the process.
Containerizing a monolithic application is a great starting point for modernizing application architecture.In many cases this can be done with no code changes at all. From there, breaking down the application into smaller components makes it easier to deploy updates, introduce new components and manage scale.
This new video series covers modernization for Java applications. It walks through the process of evolving a N-tier Java application to a distributed application running across multiple containers. Docker provides the platform that plugs in and manages all the components into a coherent architecture.
This series does not cover a full re-architecture to microservices. Shifting to a full microservices approach isn't right for all applications, and the daunting task of a full rewrite of a monolithic application can be a massive endeavor that takes years to pay-off. Especially if what you have works. This series uses a feature driven approach. I select key features to update, in order to fix performance issues, add new functionality and support application updates. Gradual evolution toward a fully modern application can result in rapid benefits and an easier transition.
In Part 1, the series is introduced and covers the modernization process using Docker as it relates to the development workflow. This part discusses Docker and how applications are moved into containers. It also includes a synopsis of the following videos and code in the series.
To learn more about Docker solutions for IT:
Docker EE, java, Modernize Traditional Apps, MTA
This syndicated content is provided by Docker and was originally posted at https://blog.docker.com/2018/03/video-series-modernizing-java-apps-developers-part-1/
https://m-square.com.au/wp-content/uploads/2018/03/6286cfc4-539d-4e84-9d88-0554c32b8ff4-3.jpg
540
960
Sophia Parafina
https://m-square.com.au/wp-content/uploads/2012/02/logo-m-square.png
Sophia Parafina
2018-03-13 05:15:00
2018-03-13 05:37:22
Video Series: Modernizing Java Apps for Developers Part 1