This
post
was originally published on
this site
Innovating faster to meet end-user demand is one of the challenges addressed by DevOps. DevOps bridges the knowledge gap about the impact between business and application teams. Application teams have to better understand the impact they have on business with code or deployment changes. On the other hand, business wants to better understand the impact on current development commitments when they come up with new requirements and a tight schedule.
The following is an example I keep using in my presentation when I talk about the importance of metrics-driven continuous delivery. It shows the success and failure of marketing campaigns as well as deployments. Making this data visible and accessible to both business (who drove users through a marketing campaign) and the application team (who deployed a change on May 2nd causing a spike in frustrated users) allows us to all better understand the impact we have.
Dynatrace AppMon & UEM bridges the gap between business and application team. Highlighting the impact of events such as campaigns or deployments on the bottom line: Conversion Rate!
Precisely bridging this gap is what motivated the story behind this blog, which was shared with me by Jose Miguel Colella, one of our Lead Consultants in our Dynatrace Expert Services. Jose worked with one of the larger European travel agencies. Holiday season booking is the most critical time to do business in the travel industry. In countless examples we have all seen the facts that bad performance and user experience impacts end-user behavior. In the case of online travel, frustrated users simply open the next travel app or browse to the next online travel portal to get a better deal. It is highly unlikely they'll ever return to the portal that left them waiting or that crashed their device.
In order to understand the impact of performance, new deployments, or changes in features on the business, the travel agency needed to bring visibility into their application performance to understand how their customer base was utilizing the various applications, and have the business receive insight into key business transactions.
Defining Dashboards and Metrics that benefit Business, App and Ops Teams
The travel agency's business users worked alongside development and operations to create dashboards that are used daily by key stakeholders for visibility into the performance of their applications. One of the agency's subsidiaries is a major Spanish Airline. They are leveraging Dynatrace Application Monitoring to bring insight into critical business flows; checkin, purchases, purchase type as well as revenue. The business is communicating with operations and development to bring visibility to the business flows that most matter to customers and the company's brand.
Business Metrics: Reservation by Payment Type
The business users demanded visibility into the payment type that was being used for purchases; Credit Card, Transfer, Paypal, etc. A quick session with the development team yielded the following dashboard: showing the purchases by payment type by a time series showing the response time. With this they are able to visualize both the major purchase type, with visibility into any performance issue with any specific payment type.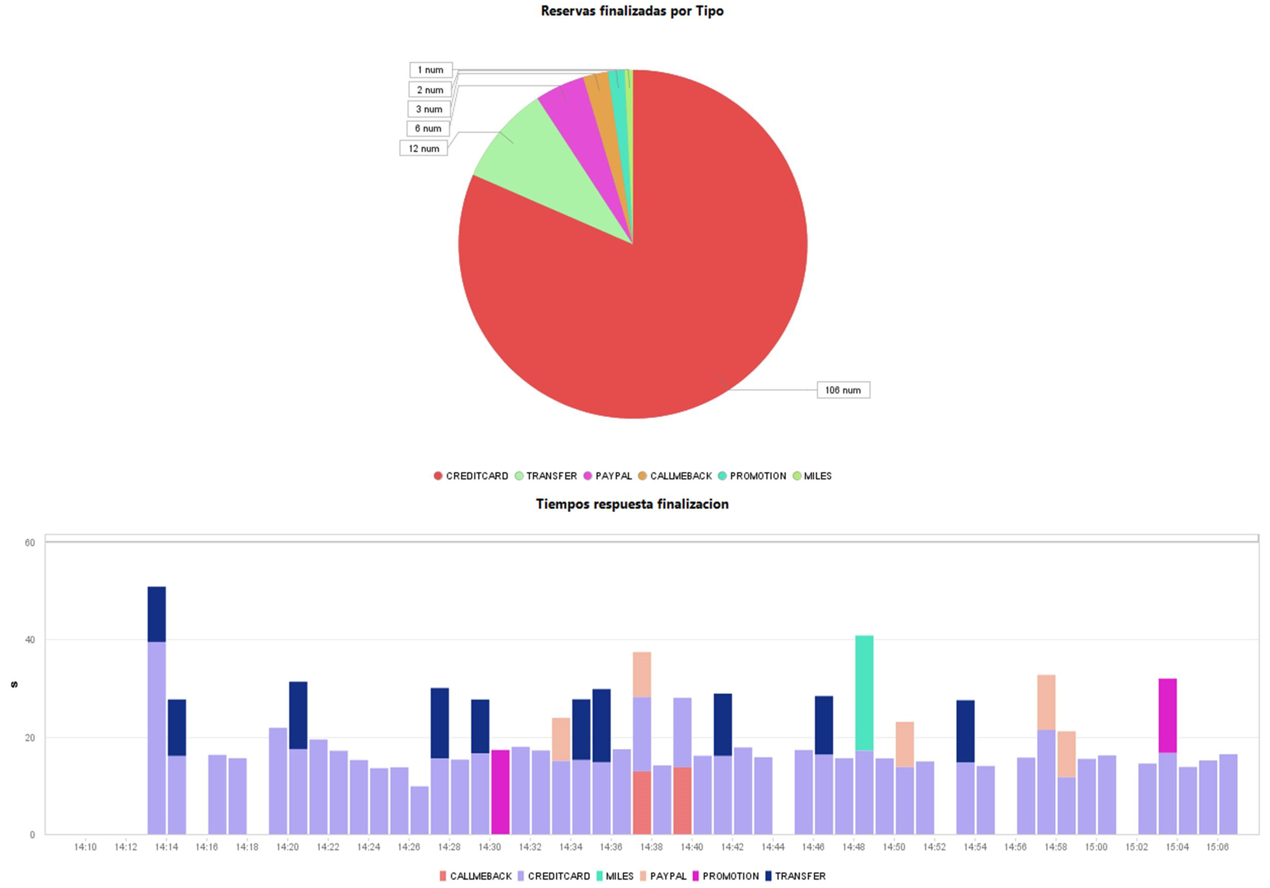 Dynatrace AppMon's Business Transactions give a business view on top of the captured application performance data.
The dashboard is used daily by the business in order to benchmark expected purchases as well obtain performance metrics into a transaction that makes up the majority of the revenue.
Tip: Business Transactions can use context data from any type of information along the end-to-end transaction flow. Whether it is an HTTP Parameter, REST API Endpoint, Backend Method Argument or Return Value or a SQL Query. Even information presented to the end user in HTML can be captured and used. Learn more on our Advanced Business Transaction YouTube Tutorial.
Business and App Metrics: Load, Failure and Response Time
The business users also wanted visibility into the entire flow that led to the purchase. If a customer is having issues before the purchase, he/she is unlikely to go through with the purchase. Having blurred the lines between business and development, a knowledge transfer took place, where the business acquired more in-depth knowledge of the entire flow, while development understood the needs of the business.
The following dashboard was created to provide visibility into the entire business flow from home page to purchase of flight ticket, with failure rate, response time and count. At any time the business is aware of what is occurring with their customer base, and where there might be a bottleneck.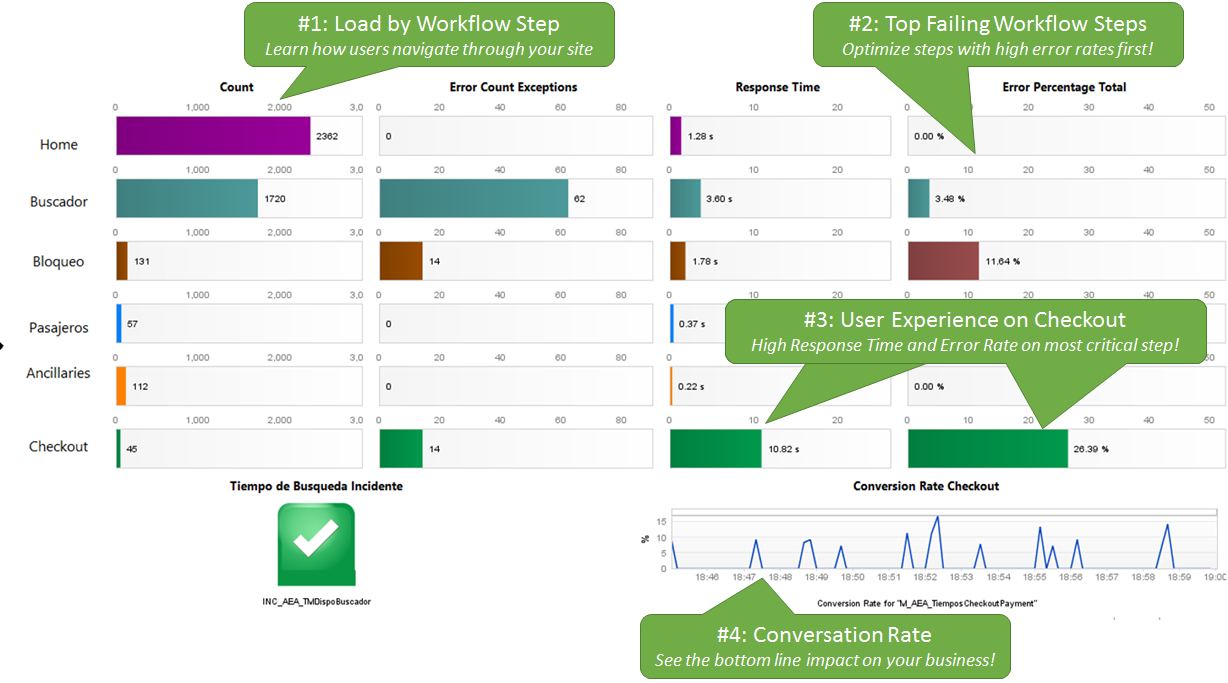 Dynatrace AppMon Dashboard to bridge the gap between Business and Application Team. Understand where to optimize to impact the bottom line: Conversion Rate!
Both these dashboards are indications of something greater at work, that has also come about as a result of Digital Performance Monitoring. Business, Operations and Development are speaking one language, understanding each other's requirements, and fostering growth and visibility for the company.
Tip: Check out what else is possible with Dynatrace AppMon dashboarding. Watch our BizOps Dashboard as well as our Building Dynatrace Dashboards YouTube Tutorial!
Metrics for A/B Testing: What is faster? And Why?
When web sites have multiple channels and user work flows to eventually make a reservation, it is good to understand the difference in performance, user experience, and the impact this has on user behavior. Also, when doing A/B Testing or Blue-Green Deployments it is important to compare the behavior. The following is a dashboard used by the application teams to understand the different performance behavior of similar features. It's easy to spot the huge performance difference between these two user workflow steps: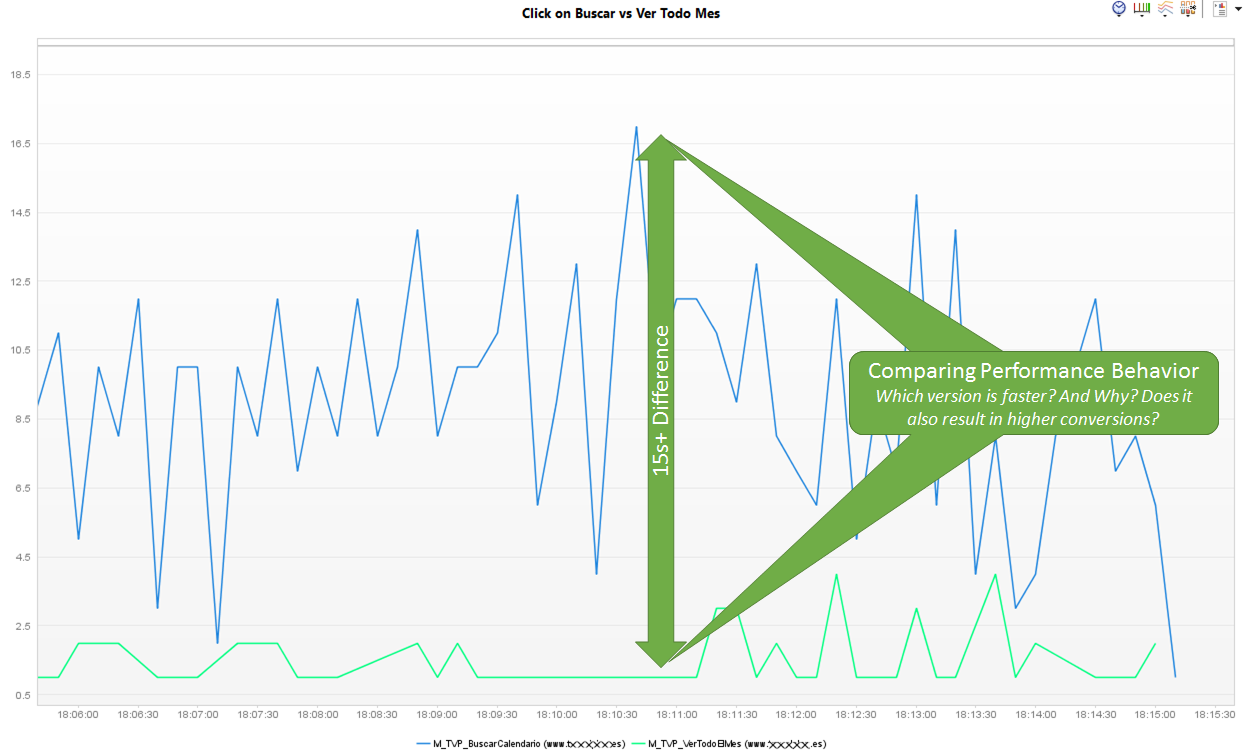 Dynatrace AppMon can be used to compare performance behavior between different workflow steps, A/B Testing or Blue-Green Deployments.
From these dashboards it is easy to drill into the actual root cause of why the performance is so much different. Whether it is a poorly-coded method, a slow SQL statement, a misconfigured micro-service, or a faulty or slow JavaScript file, the information is available with a single click in Dynatrace AppMon & UEM.
Tip: Want to learn more about how to identify root cause and diagnose performance issues with Dynatrace? Then check out our YouTube Tutorials on Optimizing Application with Automatic Pattern Detection.
Trustworthy data for everyone!
Internally these dashboards are seen as the single source of truth for business users and development teams. The development teams leverage these dashboards to gauge the performance of both current applications and new versions that are published.
This is the power of Dynatrace Application Monitoring. It allows for different users from different backgrounds to have insight into the application delivery chain in a way that is most relevant to their needs and concerns. For the business user, it is understanding that a spike in response time for the search functionality resulted in loss of revenue. For the development teams, it is understanding that their application is critical to the success of the business.
If you want to try Dynatrace we provide two easy options for you:
Try Dynatrace SaaS for 15 Days

Full Stack AI-Driven Monitoring
Just deploy a single agent on your machine

Try Dynatrace AppMon & UEM for 30 Days

On-Premise Lifecycle Monitoring of your Application
Closing the loop from Dev via Test to Ops and Business
If you want to learn more, please feel free to connect with Jose Miguel Colella or read up on what our Dynatrace Expert Services have to offer.
And keep closing these gaps!
This syndicated content is provided by Dynatrace and was originally posted at https://www.dynatrace.com/blog/business-innovation-through-apm-metrics-driven-devops/
https://m-square.com.au/wp-content/uploads/2017/01/static01.m-square.com_.audt-cdn.netImpactOnConvers-7900a0a1a7fc4fed38175d91f8fd96d5447f64e9.png
491
912
Andreas Grabner
https://m-square.com.au/wp-content/uploads/2012/02/logo-m-square.png
Andreas Grabner
2017-01-26 05:23:52
2017-01-26 05:42:38
Business Innovation through APM Metrics-Driven DevOps